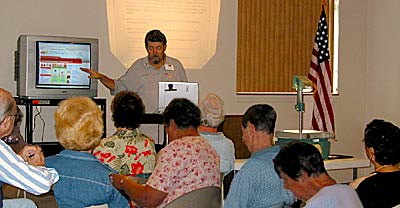 Quality instruction for you, and others in your social circle.
Whether at your area library or community center, we can bring instruction about buying online, selling on eBay®, or starting a home-based Internet business at eBay®, how to protect yourself both on-and-off the Internet directly to you.
AuctionInstructor.com is dedicated in educating the public. Since 2004 we have been focused on developing Internet Business Education Courses, working to educate the public on Internet Business and bringing in Internet business support resources to assist students and citizens. Both locally in our Marion County area and other communities we thrive in assisting personal or family business success. We are fiercely dedicated to helping people protect themself and their family from fraud, scams and Identity Theft.
AuctionInstructor.com is also working to develop special Internet Business programs and support to help eliminate latch key, work with at risk kids, shut-ins, and individuals or groups with special needs.
If you are interested in becoming involved to help and support AuctionInstructor.com develop our community programs, maybe be involved as a mentor or volunteer for AuctionInstructor.com in our local programs in and around the Marion County, Florida area, or be a possible sponsor for any aspects that we serve the local Marion County community, please contact AuctionInstructor.com.


If you need special assistance with online learning and have a disability of any kind, we suggest you contact the Disabled Online Users Association (DOUA.org). The Disabled Online Users Association (DOUA) has established the Helping Hand Program to help disabled individuals achieve steps toward financial independence as online auction sellers.

"Our goal at DOUA is to help the differently-abled become self-sufficient and independent," says Marjie Smith, Founder and Executive Director of DOUA. "If you're disabled and would like to start your own online business, we can help." If you would like to support DOUA in their efforts, click here.

If you would like to help the DOUA.org in any, or be a DOUA.org mentor or sponsor, contact the DOUA.org for more information.
Thanks!
Free Personal Internet Safety Workshop - Buying Online and at eBay

Get The Latest Information From The Federal Trade Commission
Learn how to browse and buy safely at eBay®, PayPal® and the Internet,
how to avoid Home Business Scams, Identity Theft, eMail & Internet Scams ...
AuctionInstructor.com is truly delighted to help bring awareness and education to folks in our community on how to avoid Internet scams, identity theft, and how to buy and pay safely on the Internet. These Free Internet Safety Workshops are sponsored and hosted by VehltorAmerica.com.
---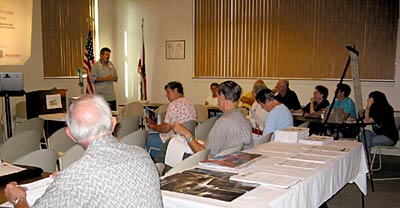 AuctionInstructor.com works closely with Vehltor® to provide information on Internet personal and business online safety topics your community wants to learn and know about. We can also help your group or organization in fund raising campaigns.
We can help Non-profit and civic groups reclaim the cash value of higher value items no longer needed or wanted that are donated.